Tuesday, March 24, 2009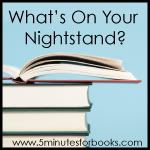 Books I finished this month:
Books I am currently reading
Up Next: books I will be reading soon.


Now I have to ask...what are you reading? If you keep your own blog then I invite you to visit the 5minutesforbooks blog by clicking on the picture at the top of this post then write a post of your own if you don't have your own blog then please leave me a comment telling me what you are reading now.