Tuesday, February 24, 2009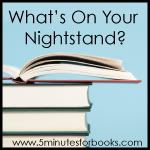 Here is my list of things to read or that I just finished this month:

I don't really pre plan what I am going to read next so much but looking at this list I think when I finish my next book I should read something with a little more substance. A history or a biography maybe something non-fiction. I guess we will see next month when I do this all over again.
Now I have to ask...what are you reading? If you keep your own blog then I invite you to visit the 5minutesforbooks blog by clicking on the picture at the top of this post then write a post of your own if you don't have your own blog then please leave me a comment telling me what you are reading now.